Driving Business to New Heights
Where will AVLOG take you?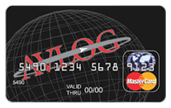 Contract Fuel Pricing
Contact Robert Roy
M

Fuel Centre
The M Fuel Centre is staffed by trained aviation and business professionals around the clock – 24/7/365. When corporate clients contact MGAS they respond immediately to meet each and every need. They do whatever it takes to exceed the clients' requirements and expectations.

MGAS Contract Fuel
MGAS Global Aviation Services offers contract fuel at participating locations around the world. In the US, many locations accept the M Fuel ID card for contract fuel; however some domestic and all international locations require a pre-authorization prior to fueling. To initiate a pre-authorization for fuel at a participating location, simply log on to the MGAS website, www.mgas.com, and enter your travel itinerary in the simple, user-friendly interface, right from your desktop. Within minutes you will receive a confirmation of your fuel arrangements including trip details. To ensure a smooth flight, MGAS also notifies the FBO/Fueling Agent of your travel schedule, and prior to your arrival, confirms all fuel and ground handling arrangements.
Clients may also contact the M Fuel Centre at 713.559.2450 to request a pre-authorization around the clock, anytime, day or night. Our Client Services Coordinators will make suggestions regarding preferred FBO locations, value pricing and will make the necessary arrangements for you within seconds, with just one phone call.
AVLOG MGAS Fuel Alliance

All locations available through the MGAS Fuel Network, domestic and international, are available on our website (www.mgas.com) with current pricing, location details and other relevant information.
MGAS has ability to provide fuel at virtually every corporate airport worldwide– so if you are unable to locate a particular location on the website, please contact the M Fuel Centre at 713.559.2450. If the location is not available, we will make arrangements to get it!