Driving Business to New Heights
Where will AVLOG take you?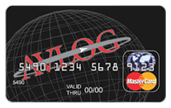 AVLOG Commercial Purchasing Card
The aviation purchasing card that breaks the mold...
Utilize the AVLOG Purchasing MasterCard® for all types of purchases including fuel, parts, procurement, travel, entertainment, capital expenses and much, much more.
IMMEDIATE BENEFITS:
Increase cash flow.
One card, total solution.
Accepted at over 24 million locations worldwide.
Charge up to $9.9 million per card.*
Significant cost reduction in typical transaction.
Streamline accounts payable process.
Unlike consumer cards, the AVLOG MasterCard® in conjunction with the AVLOG GlobalReporting System allows for complete management of spending activities through the implementation of specific corporate controls.
FEATURES:
Individual spending limits and merchant level controls.
Blocking and split billing capabilities.
Adjustable billing cycles with flexible payment dates.
Transaction detail tracking (level III).
More efficiently manage payment settlement with suppliers.
Quality customer support.
Start your implementation today. Call AVLOG at 919-599-5069
or send us an e-mail and an experienced AVLOG executive will assist you.
Fast Fact
"Save an estimated
$ 67.38 per transaction over traditional purchase orders."
- Purchasing Card Benchmark Survey Results, 2005
See how you can take your business to new heights...

Download an application