Driving Business to New Heights
Where will AVLOG take you?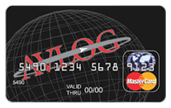 Our Vision at AVLOG
To be the global leader that sets the world class standard in the aviation industry for a one-card purchasing and accurate reporting solution.
Our Mission at AVLOG
Dedicate ourselves to our customers with integrity, by supplying the highest quality service in the most timely and cost-effective manner

Integrate efficiently with AVLOG partners to continually improve our process and procedures

Encourage success through growth

Always treat our competitors honestly

Effectively communicate throughout our organization and our partners' organizations

Aggressively pursue innovations to decrease controllable costs and increase profitability for our customers

Inspire a healthy corporate and community culture
Daily Good
Starting in September of 2003, smile cards began appearing all around the world. They are markers of a newfangled game of tag, where "you're it" because someone has done something nice for you. Then it's your turn to do something nice for someone else and, in the process, pass the card along. This is a game of pay-it-forward: anonymously make someone smile, leave behind a card asking them to keep the ripple going. It's easy and fun. Is kindness truly contagious?