Driving Business to New Heights
Where will AVLOG take you?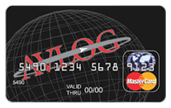 AVLOG Purchase Log System
Increase your transaction capabilities...
In a partnership with Wright Express (WEX), AVLOG is pleased to offer the AVLOG Purchase Log System to our corporate accounts. For all of your in-house corporate purchases, the AVLOG Purchase Log System makes purchasing, tracking and reporting purchases a breeze.
IMMEDIATE BENEFITS:
Easy reconcilation.
Financial rebates.
Extended cash flow.
Easy payment system with auto generated accounts.
Eliminate invoicing on these purchases.
Reduce risk of fraud.
The AVLOG Purchase Log System enables ghost card functionality with a more secure solution.
FEATURES:
Web-based interfacing.
Transaction data posted daily.
Access to download data in customized format.
Each transaction tied to an auto-generated number and can be tied to your AVLOG PurchasingMasterCard® and benefits.
Complete control over profiles...delete a profile at the press of a button.
Start your implementation today. Call AVLOG at 919-389-6430 or send us an e-mail and an experienced AVLOG executive will assist you.