Driving Business to New Heights
Where will AVLOG take you?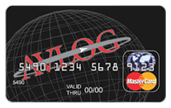 Solutions
Solutions that drive your business...
AVLOG's Purchasing and Reporting System
The AVLOG system increases profitability by cutting specific operational costs: virtually eliminating invoices, consolidating receivables in real-time, controlling purchases, automated reconciliations and improving cash flow at the point of sale through the execution of electronic payments in 24-48 hours.

Point of Sale (POS)? Click here to see how AVLOG can drive your bottom line to new heights.
Start your implementation today. Call AVLOG at 713-893-1699 or send us an e-mail and an experienced AVLOG executive will assist you.

Credit card acceptance should increase sales not costs...what does your current processor do?
If you accept credit cards, maybe it's time you knew what it really costs your organization to do so.
Does your staff spend hours every month trying to understand your statement or why transations are being downgraded and non-qualified?
Maybe its time for AVLOG to look over your statements and shed some light?
No commitments, just information.
If we are a fit- and you want to convert to
AVLOG GLOBAL PAYMENTS

- we will make the process painless and easy.
Send us an e-mail at
nac@av-log.com