Driving Business to New Heights
Where will AVLOG take you?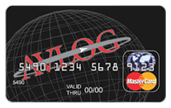 AVLOG Global Reporting System
Reporting power at your fingertips...
Developed out of the need for aviation and commercial companies to obtain critical data in order to manage their expenses and payments, the AVLOG Global Reporting System delivers a powerful solution.
IMMEDIATE BENEFITS:
Increase spending visibility to both cardholder and administration.
Streamline reconciliation process.
Collect information from multiple feeds.
Obtain comprehensive purchasing information electronically in real-time.
Powerful controls and reporting capabilities are achieved when combined with the AVLOG PurchasingMasterCard®.
FEATURES:
Reduction or elimination of multiple payment processes, purchase orders, invoices, credits, reconciliation, check payments, and more.
Realize savings in expense management, procurement cycle times and payment processes by as much as 80%.
Interfaces with any GL accounting system, ERP or other legacy system.
Create user-defined, custom reports.
Start your implementation today. Call AVLOG at 919-599-5069 or send us an e-mail and an experienced AVLOG executive will assist you.
Haven't found the solution that addresses all of your data reporting needs?
Let us create a personalized AVlution (AVLOG solution) for you - click here to send your request today!
AVLOG Global Payment Merchant System
According to MasterCard®
Global Payments possesses one of the lowest chargeback liability rates in the industry. Currently 31% of all incoming chargebacks are resolved systemically by EMS.