Driving Business to New Heights
Where will AVLOG take you?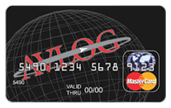 AVLOG Fuel and Tax Module
Taking your fuel and tax headaches away...
The AVLOG Fuel and Tax Module* is specifically designed to allow bulk fuel providers a way for their clients to obtain their discounts at the point of sale without pre-arranging discounts in advance.

IMMEDIATE BENEFITS:
Discounts obtained at point-of-sale without pre-arranging discounts in advance.
Significantly decrease necessity for outsourcing tax recovery.
When combined with the AVLOG PurchasingMasterCard® and the AVLOG GlobalReporting System, the result is a powerful savings tool.

FEATURES:
Encrypted data ensures discount accuracy.
Settlement for fuel transaction is handled via the card.
Eliminate tax recovery at associate dealer locations.

Data is automatically collected on all respective taxes.
Data is checked against tables supplied by vendor.
Start your implementation today. Call AVLOG at 919-599-5069 or send us an e-mail and an experienced AVLOG executive will assist you.

Haven't found the solution that addresses all of your fuel and tax needs?
Let us create a personalized AVlution (AVLOG solution) for you - click here to send your request today!
*Currently in development.